Samsung 120-inch The Premiere Laser 4K Smart Projector
₱319,999.00
"120 UHD 4K Smart Projector TV
SHOP 0% INTEREST INSTALLMENT
| Terms | Pay only |
| --- | --- |
| 3 months | PHP 106666.33 |
| 6 months | PHP 53333.17 |
| 12 months | PHP 26666.58 |
| 24 months | PHP 13333.29 |
| 36 months | PHP 8888.86 |
Shop Zer0% Installment is valid only for this product's SRP.
Currently available for HSBC Credit cards.
Please see our Terms and Conditions for more information.
Description
Additional information
Description
This is available on a FOR ORDER BASIS and for Bank Deposit transactions only.
Delivery may take 3-4 weeks upon ordering.
KEY FEATURES:
Resolution: UHD 4K
Single Laser Technology
2,200 ANSI Lumen
Max 120"
SMART Projector TV
Ultra Short Throw
2.2Ch 30W
Bixby Voice Assistant
Tap View
Game Enhancer
Built-in Speakers and woofers
Compact and Round Design

* Images are simulated and for illustration purposes only. The Graphic User Interface (GUI) specifications, which do not affect product performance, are subject to change without notice.* Actual Product may differ from image shown. Please see our product gallery.* The laser projector can be projected on a flat white or bright monotone wall without setting up an additional screen. For a more optimized experience, using a screen dedicated to ultra-short throw projector is recommended.
Ultra-high-resolution with cutting-edge laser technology
Laser Technology
The Premiere uses a laser light source to offer a dramatic home cinema experience that will make you feel like you're in a theater. You'll get precise color accuracy, a super-wide color gamut, and exceptional brightness on max 120-inch screen space. It can even play HDR10+ content.
Now playing! Bigger and better
Big screen in 4K resolution
Get ready for a whole new home cinema experience. No matter where you sit, the 120-inch wide screen immerses you like no other, while crystal 4K resolution gives your eyes the incredibly crisp images and optimized color expression they deserve. See all the subtleties revealed in every scene.

Freedom to arrange your space
Ultra short throw
Placing your projector is now worry-free. The Premiere can sit super close to the wall and still create a massive screen. And with special sensors built-in, it knows when children come near, automatically reducing the brightness to protect their eyes. Ultra-short throw, Ultra-amazing viewing.
* The letter 'A' shown in the picture below, refers to the viewing size when the picture is projected from The Premiere, measured diagonally from corner to corner.
Just place it by the wall
Hassle-free installation
Stop looking up at the ceiling. This projector is made to sit right in front of the wall, making it easy to install and plugin. And when you turn it on, you'll realize how easy it is to adjust the screen size.
Elegantly minimized
Compact and round design
All the powerful features you need in a compact smoothly rounded shape that looks beautiful from every angle. With a premium fabric finish, it blends superbly into your interior with an elegant touch of minimalism.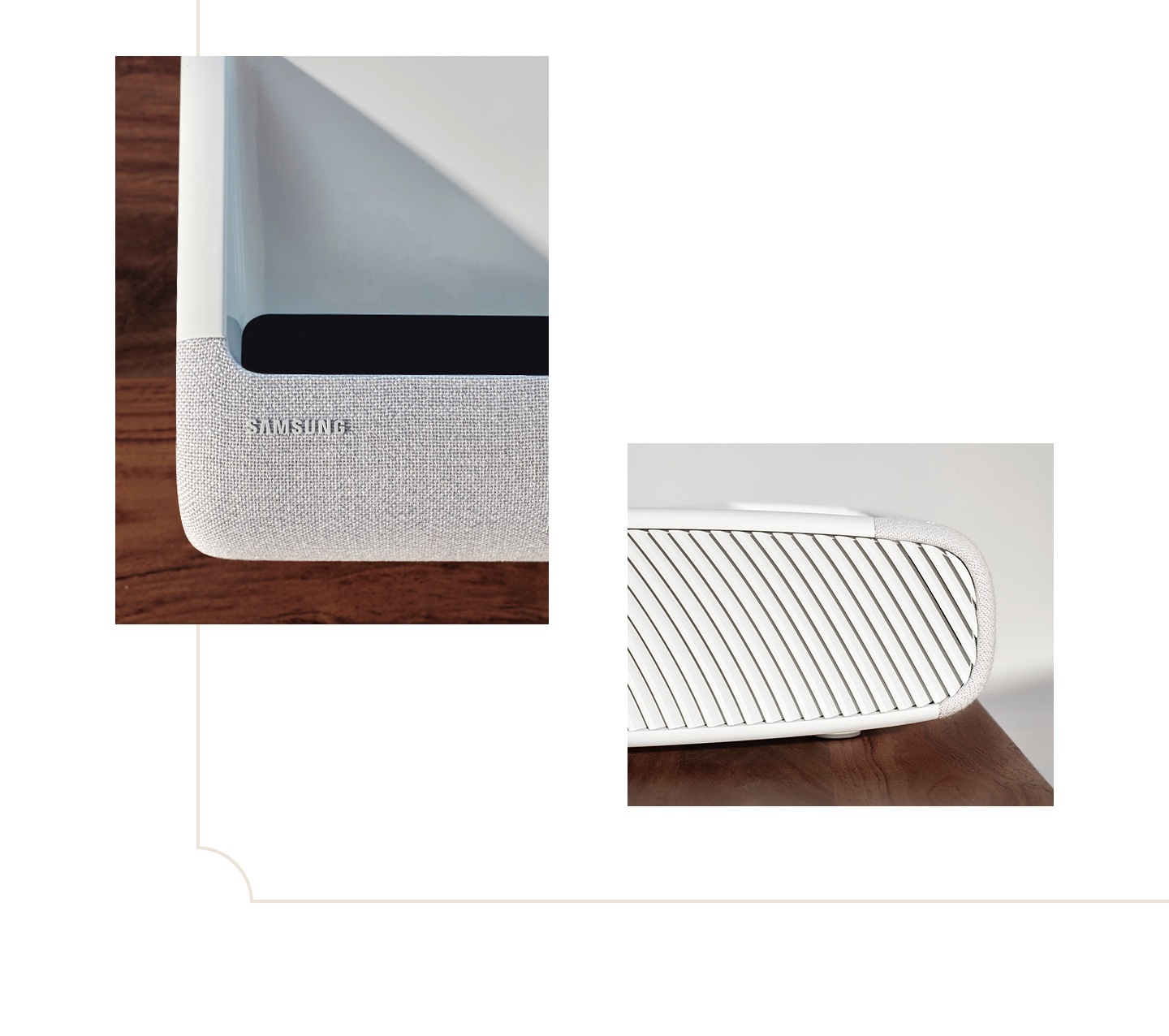 Enjoy content without a screen
A dedicated projector screen can give you more vivid picture quality, but you don't really need one anymore. Just set up and enjoy on a simple white wall. Perfect for people who want to keep their space simple.
More ways to enjoy The Premiere
Smart TV Experience
You can also have the great Smart service experience that Samsung TVs are renowned for, with their great user interface and experience. And, unlike conventual lamp-type projectors, this one features instant-on.
* Smart services and GUI (Graphic User Interface) may vary by model, region, language, mobile devices, or product.* A Samsung Account is required to set up The Premiere.* Actual user experience may vary.* Some features and functions provided by connected devices may not be supported or limited to use.
Seamless voice control
Bixby Voice Assistant

Bixby
You can even talk to The Premiere. The Bixby voice assistant can go beyond just controlling The Premiere. Just ask and get more.
* Available technology, functions, GUI(Graphic User Interface) and smart features may vary by region, service provider, network environment, mobile devices or TV product, and are subject to change without notice.* Actual user experience may vary.* This feature is only available in certain languages.* Bixby voice commands recognize English (US/UK), French, Spanish, German, Italian, Chinese and Korean. Not all accents, dialects and expressions recognized.
Just tap to mirror
Tap View
A simple tap is all you need to get content from your smartphone onto the screen. Just tap The Premiere with your phone and it automatically mirrors what you're watching or listening to.
* Compatible devices only. Please see the product specifications or support page.* This service only works when The Premiere and mobile are on.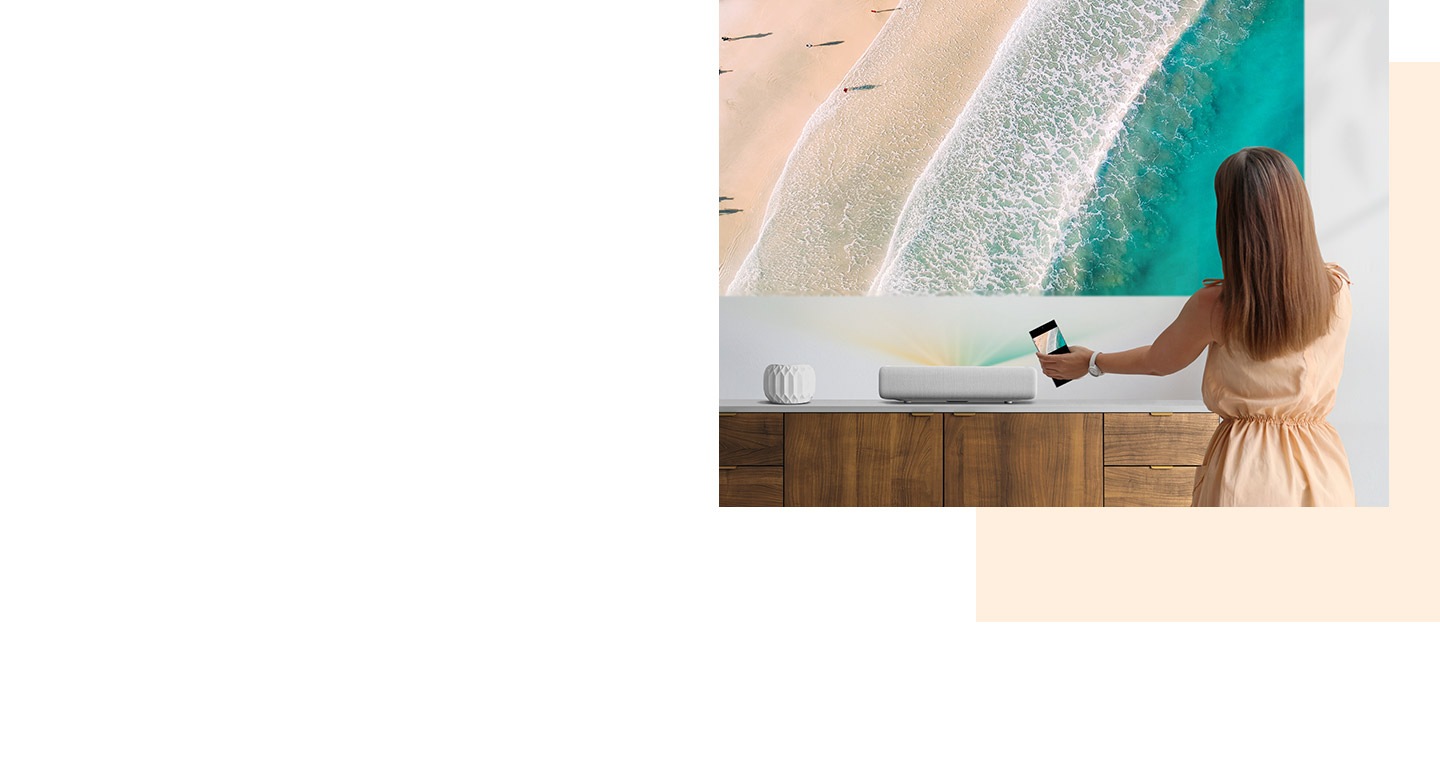 Win more games, have more control
Game Enhancer
Get in the game without delay. Game Enhancer gets the setting right and gives you the optimization you need to win.
* Feature availability may vary by game console. * The availability of the feature may vary by product size.